Welcome to the Quapaw Quarter Association
The Quapaw Quarter Association's mission is to promote the preservation of Little Rock's architectural heritage through advocacy, marketing and education.
Incorporated in 1968, the QQA grew out of an effort to identify and protect significant historic structures in Little Rock during the urban renewal projects of the early 1960s. Throughout its existence, the QQA has been a driving force behind historic preservation in Greater Little Rock.
Join us for our Annual Meeting October 7th at Ron Robinson Theater
The Quapaw Quarter Association is hosting its Annual Meeting and the Greater Little Rock Preservation Awards at 5:30 on October 7th at the Ron Robinson Theater in downtown Little Rock. We hope you can join us. As always the event is free and refreshments will be provided. Email chowland@quapaw.com or call (501) 371-0075 with any questions.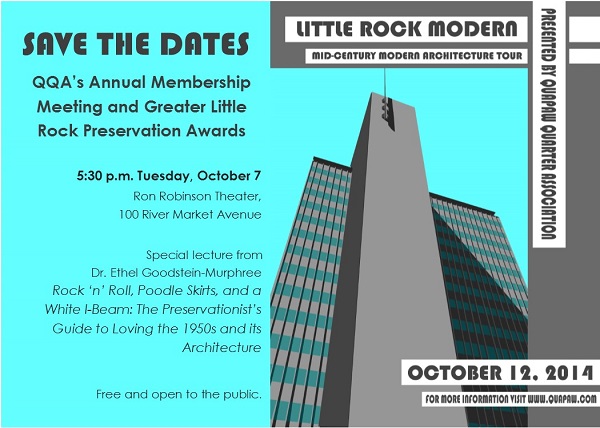 Little Rock Mid-Century Modern Tour October 12th
On Sunday, October 12, join the Quapaw Quarter Association in partnership with the Arkansas Historic Preservation Program for a guided trolley tour of ten pristine examples of Mid-Century Modern Architecture in the downtown Little Rock area from 1:30-5:30 p.m. Tickets cost $20 for the public and $15 for Quapaw Quarter Association members. Tickets may be purchased by calling (501) 371-0075 or clicking here!