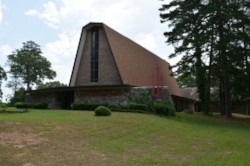 QQA's Greater Little Rock Mid-Century Modern Tour
Join us as we explore the remarkable history and architecture of Little Rock's Broadmoor neighborhood. Experience the simplicity and elegance of several churches in the area and learn more about the innovative ideas of the developers of Broadmoor. The tour, led by Mason Toms, Exterior Design Consultant & Architectural Historian for Main Street Arkansas and Mid-Century Modern expert, will include four churches and the Broadmoor Clubhouse. Callie Williams, an architectural historian and the National Register Historian at the Arkansas Historic Preservation Program, will also serve as a guide for the tour. Sponsored in part by the Tower Building and by Fred Perkins, Jr. of RPPY Architects. 
This year's tour will include a special reception the night before on Saturday, September 29, 2018 at the spectacular ASU System offices in the Old Line Building, 501 Woodlane suite 600. The trolley-led tour will follow Sunday, September 30, 2018 at 1 pm.
Ticket Prices:
Ticket to participate in the reception and tour: $50.00.
Ticket for reception only $20.00 (Sept. 29, 2018. ASU System offices, 501 Woodlane #600, Little Rock, AR 72201)
Ticket for tour only:$40.00 (Sunday, September 30, 2018 1:00 pm. Meet and board the trolleys in the Big Lots parking lot at University Plaza, 5820 Asher Ave, Little Rock, AR 72204).
Click here to purchase tickets. 
---
Welcome to the Quapaw Quarter Association
The Quapaw Quarter Association's mission is to preserve Greater Little Rock's historic places.
Incorporated in 1968, the QQA grew out of an effort to identify and protect significant historic structures in Little Rock during the urban renewal projects of the early 1960s. Throughout its existence, the QQA has been a driving force behind historic preservation in Greater Little Rock.