Welcome to the Quapaw Quarter Association
The Quapaw Quarter Association's mission is to preserve Greater Little Rock's historic places.
Incorporated in 1968, the QQA grew out of an effort to identify and protect significant historic structures in Little Rock during the urban renewal projects of the early 1960s. Throughout its existence, the QQA has been a driving force behind historic preservation in Greater Little Rock.
---
2017 Annual Membership Meeting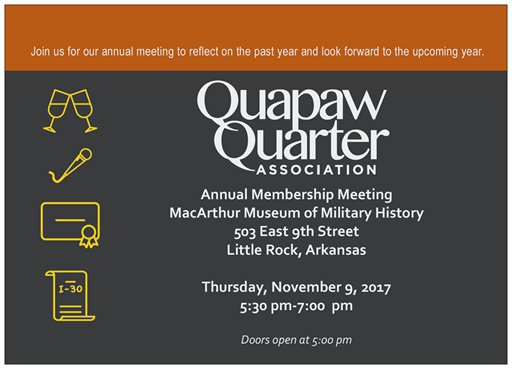 Please join us for QQA's Annual Membership Meeting.

The program will include a presentation by Jodi Morris, National Park Service, Little Rock Central High School National Historic Site "If these buildings could talk: Places that mattered in the Central High Crisis"

KARK's Weekend Anchor, Victoria Price will serve as emcee as we celebrate the efforts of Greater Little Rock's preservation community with presentation of the Peg Smith Award, the Jimmy Strawn award and several Awards of Merit.
Thursday, November 9, 2017
Location:  MacArthur Museum of Arkansas Military History
503 E. 9th Street, Little Rock
5:00 pm doors open for reception
5:30 pm program begins
Please RSVP to qqa@quapaw.com or 501.371.0075 ext. 4
---
---
2017 Third Quarter Chronicle
Check out the latest edition of The Chronicle - QQA's quarterly e-newsletter. If you haven't signed up to receive The Chronicle in your Inbox please do so!
---
Why Do Old Places Matter?
"In a world that is constantly changing, old places provide people with a sense of being part of a continuum that is necessary for them to be psychologically and emotionally healthy."
---
The Quapaw Quarter Association is pleased to announce a new Historic Building Marker Program beginning in the spring of 2015. This program replaces the discontinued Quapaw Quarter Historic Structure Plaque and the QQA Historic House Marker Programs. The markers will be aluminum and approximately 14 inches wide by 12 inches high. They will display the building name and date of construction. They may be pole-mounted, or attached directly to the building.
Many Thanks to our Corporate Partners